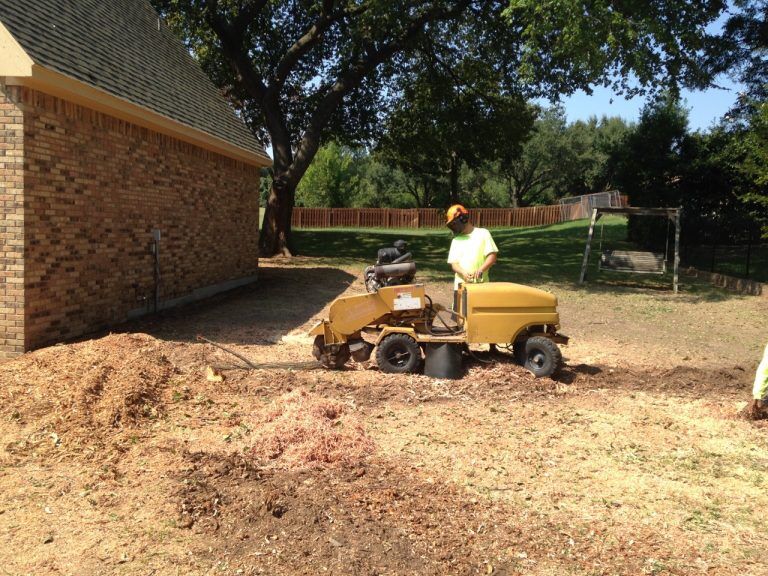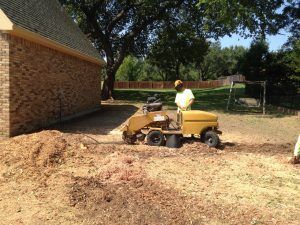 After a tree removal, a property owner has two options, stump flushing or stump grinding. The action taken greatly depends on the size of the tree and its location. Our team of experts and certified arborists can flush the stump as low to the ground as possible. If you plan to plant a new tree or if you simply do not want any remnants of the tree, stump grinding is the best option. We are equipped and experienced to grind any size tree stump in almost any location of your landscape.
Once the stump grinding is complete, material can be raked in to the surrounding ground for nutrients. The homeowner can also use the material in potted plants or other areas of landscape, as long as the tree that was removed is disease free.
Stump grinding does pose some risks with underground utilities, sprinkler lines and other plumbing lines. We take the utmost caution when we perform our stump grinding services. We also ask that the property owner make us aware of anything they know of below ground in the area the stump is located.
Our stump grinding services can be combined with a tree removal or another project. We can also come and grind an existing stump, even if we didn't remove the tree for you.
Stump grinding services are available in Southlake, Frisco, Grapevine and surrounding Dallas areas.