Richard was the lead on the job at my property. I honestly assumed it would be a mess and would need to constantly keep my eye out and supervise.
To my amazement, he was constantly in contact either by phone or text and not only finished the job fast and properly, but also cleaned up extremely well. For such a massive tree to come down in less than 4 total hours, there is no evidence either in my front or back yard that anything took place as all is neat and cleaned up.
Richard went over and beyond his call of duties.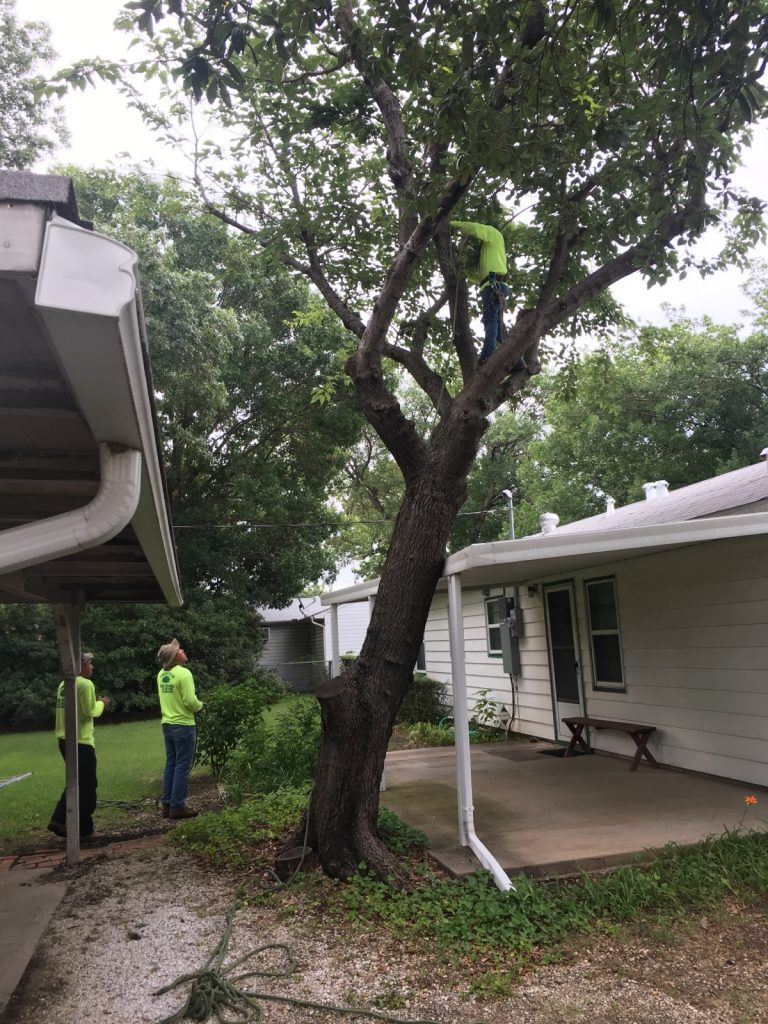 I have hired many different companies over the last 40 years to trim & take down trees at my Mom's house. She had a huge Mulberry tree leaning against her patio cover that was also hanging over the house. Arbor-tech took that tree out with no damage to anything. They ground the stump and cleaned up better than any company I've ever done business with. They were quick, efficient, reasonably priced and the nicest crew I've ever dealt with. I will definitely be calling them for any future needs. I HIGHLY recommend Arbor-Tech Tree Service!
We hired Arbortech to not only trim our trees - we have several large Live Oaks in our front yard - but for re-sodding our front yard. It was Bermuda grass and after getting worse and worse every year, Arbortech came in and re-sodded with St Augustine. It looks fantastic! We literally had people stop in front of our house to comment to us on how great it looked.
Richard and Arbortech were more than fair with the price - one of their crew miscalculated the yardage needed and they still honored their price. You don't find that kind of integrity much any more. We wholeheartedly recommend Arbortech for tree trimming, sodding, or whatever landscaping needs you have. We will definitely be using them again!
I've utilized several different services over the past 12 years! I finally found the one. These guys are top notch. In and out quickly and safely at a very fair price. Thank you Richard Fussellman for the excellent work!
My name is Jack Townsend and we live in Grapevine, TX. My wife and I wanted to express our sincere appreciation and satisfaction with Richard Fussellman and Arbor-tech Tree Service. Richard and the crew exceeded our expectations this morning. Richard was very responsive throughout the process of bidding, project and clean up. The crew showed up on time and completed the scope of work well under the expected time. The attention to detail was awesome! We've referred Richard to three other neighbors in our neighborhood this morning (of which one has already engaged with your company on the spot). We thank you for the great tree service!
Keep up the great work!
I met Robert Shoemaker, while he was doing work for my neighbor. I was impressed with the thoroughness of their work, so I asked him to take a look at some concerns that I had with my shrubs. He advised me that the original landscaping company, had planted all of our shrubs too close to our foundation. We had noticed some issues with our foundation, so we hired his crew to remove all of the shrubs, and he advised me as to what to buy and how far from our home to plant the shrubs. In the fall, we had hired another tree trimming company to trim our trees, and they did not do the job correctly. I hired Arbortech to correct the problem and also plant some grass for us, in areas that were suffering. Throughout the whole process, I questioned Mr. Shoemaker about multiple concerns. He was patient with me, extremely informative, very respectful and never tried to talk me into doing anything that was not my idea. He actually discouraged me from spending money unnecessarily! I fully trust his knowledge about all areas of landscaping. I highly recommend Arbor-Tech. Their work is exceptional, prices are very reasonable, and knowledge is unmatched!
This past week, Richard Fusselman with Arbor Tech Trees stopped by and talked to my wife about cleaning up the trees at our home at 1357 Woodbrook Lane in Southlake. I called Richard back and we set up an appointment to meet on Saturday morning. In short, I was skeptical because I had been approached by many of the individuals who regularly come by and wanted to charge ridiculous prices for very little work.
I met with Richard on Saturday. We reviewed the property and discussed the scope of work about cleaning up every tree on my property. Still expecting a price that I was not prepared to pay, we discussed everything and he quoted me his price . I was very surprised and felt it represented a fair price and agreed to have him do the work. He had his crews there within the next hour and they finished the entire job by about 1:00 P.M. the same day.
I found Richard to be very professional in every way and enjoyable to deal with. I also had the pleasure of meeting the owner of the company, Robert Shoemaker, and found him to be an up front guy as well Together they offered suggestions concerning other enhancements I could consider moving forward. I appreciated the suggestions and I am strongly considering them.
I could not be happier with the work because it was something I knew needed to be done and it worked out. I would highly recommend Arbor Tech to clean up and prune your trees. It was a great experience for me and I am sure it would be for you as well.